Are your kids obsessed with the Wild West and would love a cowboy themed bedroom? Don't worry you don't need to hire an expensive interior designer to bring it to life. Follow these steps for a Cowboy Themed Room for Kids and before you know it, your kids will be kicking up their spurs in their new room in no time. Even if you live in the city, you can have a taste of the country western life in your home.
Step 1: Choose a Cowboy Aesthetic
While a cowboy themed room seems pretty straightforward, there is a lot of room for variation. Do you want it to be a traditional cowboy look filled with horses, cattle and lassos? Or would you like a Rodeo-themed room or a Wild Wild West Outlaw look? Sit down with your kids and get a good sense of what they want before getting started. If your daughter is the western lover, think about how you can put a feminine twist on the traditionally male-centered cowboy look. Once you have a good picture in your head, it is time to start shopping.
Step 2: Pick Wall Colors or Wall Coverings
Before you think about furniture and decorations, you should think about the walls of the room first. Do you want to paint them or put up wallpaper? Natural colors like greens, browns go great with a cowboy theme. If you want more texture on the walls try blue denim, blue and white plaid or a red and white bandanna print. Cowhide rugs also look great as wall tapestries, and adding wainscoting can also add a touch of luxury.
Step 3: Flooring Counts Too
For a kids' room, it is tempting to want to stick to wall to wall carpet. It can offer a cushiony barrier to protect your kids from tumbles and falls and it may seem easier to clean, but there is a lot to say for wood floors and an area rug. Hardwood floors definitely fit the western theme more and if your child has allergies it would be better for his or her health as well. They are easy to clean, just sweep daily and polish occasionally to keep the shine and add an area rug to soften the floor and add some color. Cowhide rugs come in a variety of different colors and patterns and are very durable so they can handle the wear and tear of your kids.
You can get cowhide rugs in simple black and white or brown and white or in patterns like brindle or speckled. Cowhide rugs can also come in all-white and you can them dyed or stenciled. Cowhide rugs also make great family heirlooms because each one is very unique. Every cow, even twins, have a unique pattern so no one else will ever have the exact same cowhide rug as you.
Step 4: Sleep like a cowboy
The furniture you add to your kids' room is a great way to add some fun elements. Would they love to sleep in a Wild West Cover Wagon Bed or wooden bunk beds or a sleigh bed? Next think about the bedding. Faux suede, smooth faux leather, blue denim or red plaid can give a cowboy feel to the bedding. Patchwork quilts also go great in western-themed bedrooms.
For the rest of the furniture in the room, choose a chest of drawers and end tables made out of rustic timber. A wooden rocking chair or wooden horse or a stuffed horse play chair would also be fun additions to add. If your kids love camping out, set up a play tent in the room for impromptu sleep overs. Even, better, use stickers or paint to turn the ceiling into the starry night sky of the open reign and your kids can count the stars as they fall asleep.
Step 5: It is all in the little details
Now that you have the major components of the room covered, it is time to think about all the little details. What else can you add to the room to make it feel like a true western paradise?
Cute little cowboy or cowgirl wall hangings adorning the walls would be a nice touch or you can hang Western Rope Art in the shape of your child's name.
Any western-themed pictures to hang on the wall will also add to the feel of the room. If your child loves animals, then he or she would probably love pictures of horses, sheep and cattle. You can also paint a mural on one of the walls as well. Allow yourself to get creative and have fun.
Step 6: Now all you need is a little illumination
The lighting in the room is another subtle way to showcase the cowboy theme. If you are going with lamps, then get whimsical with cowboy boot lamps or lamps with cowhide shades. If you have a large overhead light, you could also get a light fixture made of old fashioned lanterns or one in the shape of wagon wheels. Just make sure that whatever combination you choose brings enough light into the room.
Put a feminine twist on it
Does your daughter want to grow up to be a cowgirl? If your girl is western at heart, there are special ways you can put a feminine twist on the traditional cowboy theme. Pink cowgirl hats and a mix of flowers and light colors can make the room softer. If your daughter loves horses, you can put them on the walls and her bedspread. Use the small details to personalize the theme more to your daughter.
The most important thing to remember is that Rome wasn't built in a day and that it might take a while to get all the right pieces at a good price. Take the time to check out flea markets and specialty shops and keep an eye for sales. The bedroom will mean more to you and your children if each part of it was carefully selected with meaning instead of slap-dashed together.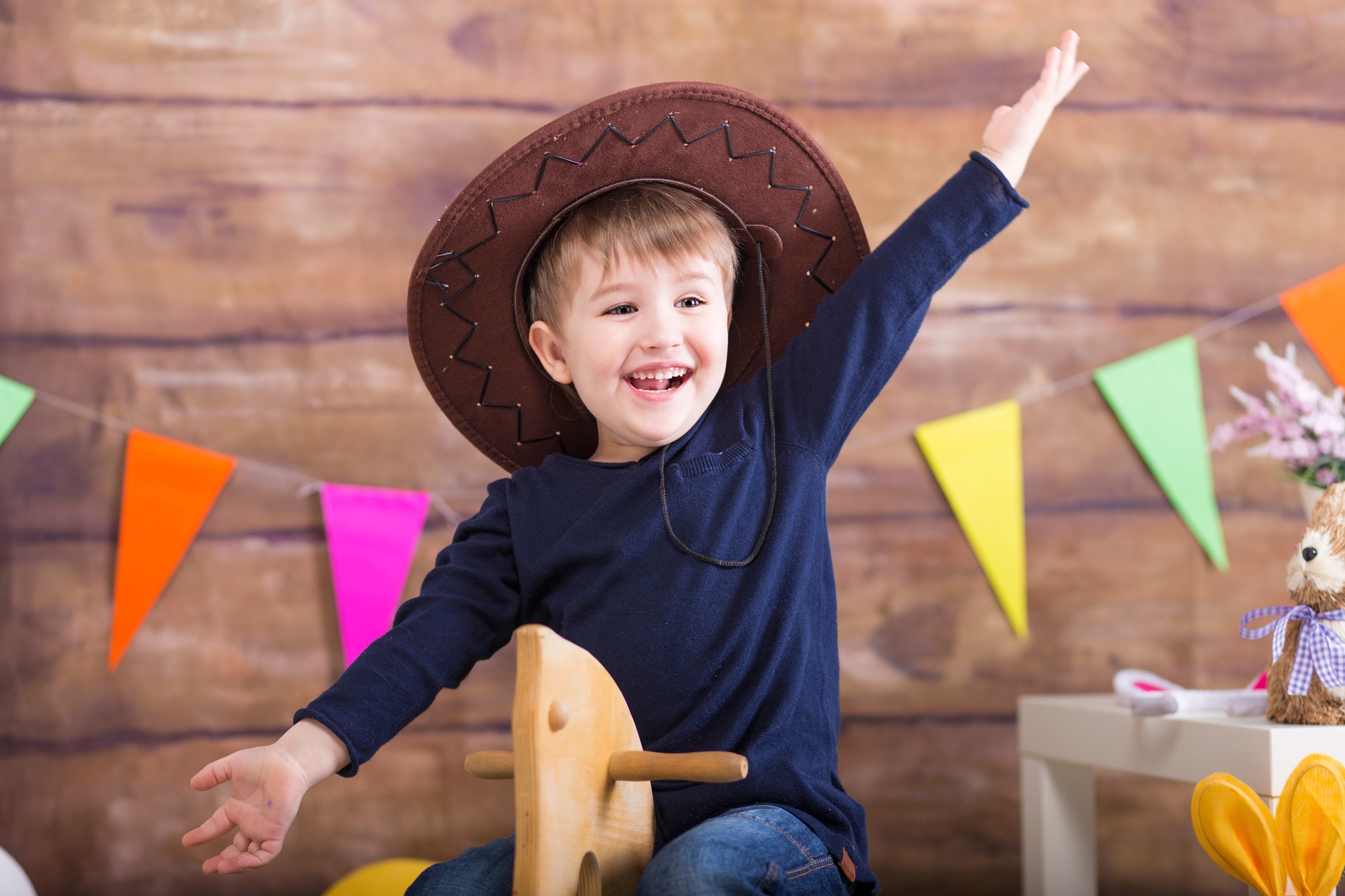 If you have a little cowboy or cowgirl at home who has been begging for a room revamp, don't stress over it with these 6 easy steps for a cowboy themed room for kid.
Step 1: Choose a Cowboy Aesthetic
There is a lot of wrangling room when it comes to the cowboy theme so find out exactly what your child wants.
Step 2: Pick Wall Colors or Wall Coverings
Greens, browns and blue denim go great with a cowboy theme or add a cowhide rug as a tapestry.
Step 3: Flooring Counts Too
Hardwood floors with an area rug fit the down home country style. Also add a cowhide rug.
Step 4: Sleep Like a Cowboy
Wooden bunk beds or sleigh bed or a Wild West Cover Wagon Bed will really set the tone for the room.
Step 5: It Is All in the Little Details
Add art, photos, and other room decorations to make the room feel like a true western paradise.
Step 6: Now All You Need Is A Little Illumination
Lamps and lighting fixtures like a wagon wheel chandelier or cowboy boot lamp shades are a nice subtle way to add to the cowboy vibe.
Share this Image On Your Site