At Cowhide Outlet, we only use Brazilian Cowhide for our rugs because they are more versatile than other hides and are produced with more care. You know you are getting quality when choose Brazilian cowhide. That is why we can confidently offer 100% satisfaction guarantee.
Cowhide Rugs as Personal Stamp
Real cowhide rugs are a perfect addition to your home if you are looking to put your personal stamp on the space. They come in all shapes, sizes, colors and patterns so there is something to fit every style. The soft hairs and supple skin will make you feel like your feet are sinking into a soft cloud so why not pamper yourself. And they're not just for country living. Cowhide rugs connote luxury and sophistication and work well even in modern, sleek spaces.
Custom Cowhide Rug Treatment
With custom cowhide treatments like animal-print stencils, acid washes and natural or bright dyes, we can custom design your perfect rug whether you are looking for a more traditional speckled cowhide rug or dyed pink zebra cowhide rug. Cowhide rugs work great not only as area rugs, but also as wall hangings, drapes, throw blankets and upholstery.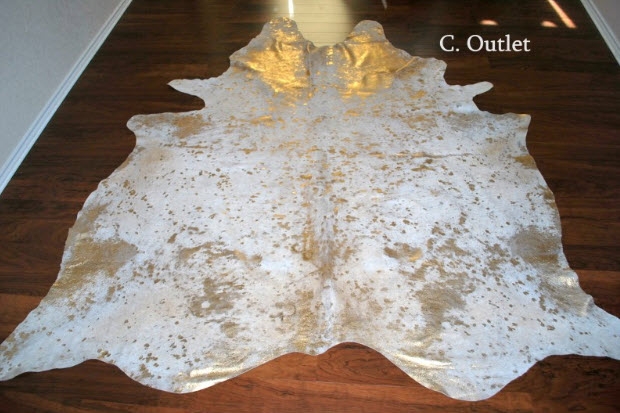 Imagine the nice contrast a soft cowhide brindle rug will give to a room full of monochrome colors. Or set a romantic mood with an all-white cowhide rug by the fireplace in your bedroom. Love gold everything? Try our Acid Wash Gold Cowhide rug.
Unique Cowhide Rugs
No two cowhides are alike even if they are from twins so another great thing about decorating with cowhide is that no one will have the exact same rug as you. Besides being stylish, cowhide rugs are very durable and when taken care of properly can last for generations making it the perfect family heirloom. Even if your children and pets create a heavy foot traffic, this rug will be able to stand up to the pressure and still look as good as new. To care for your cowhide rug, you just need to either dust with a dry cloth or simply vacuum up any dirt. No expensive or complicated cleaning process is needed which is another plus.
You won't find a better selection of 100% authentic Brazilian cowhide rugs for sale anywhere else. Here are some of the cowhide rugs types we carry:
Cowhide Stencil Giraffe Light
Cowhide Tricolor
Cowhide Skin Brindle Rug
All White Cowhide Rug
Tricolor Speckled
Cowhide Brown Long Horn
Cowhide Tricolor Brown Spotted
Cowhide Speckled
White Tricolor
Acid Wash Silver or Gold Cowhide
Hereford Red
Cowhide Patchwork rugs
Calf Hide Dyed Pink Zebra