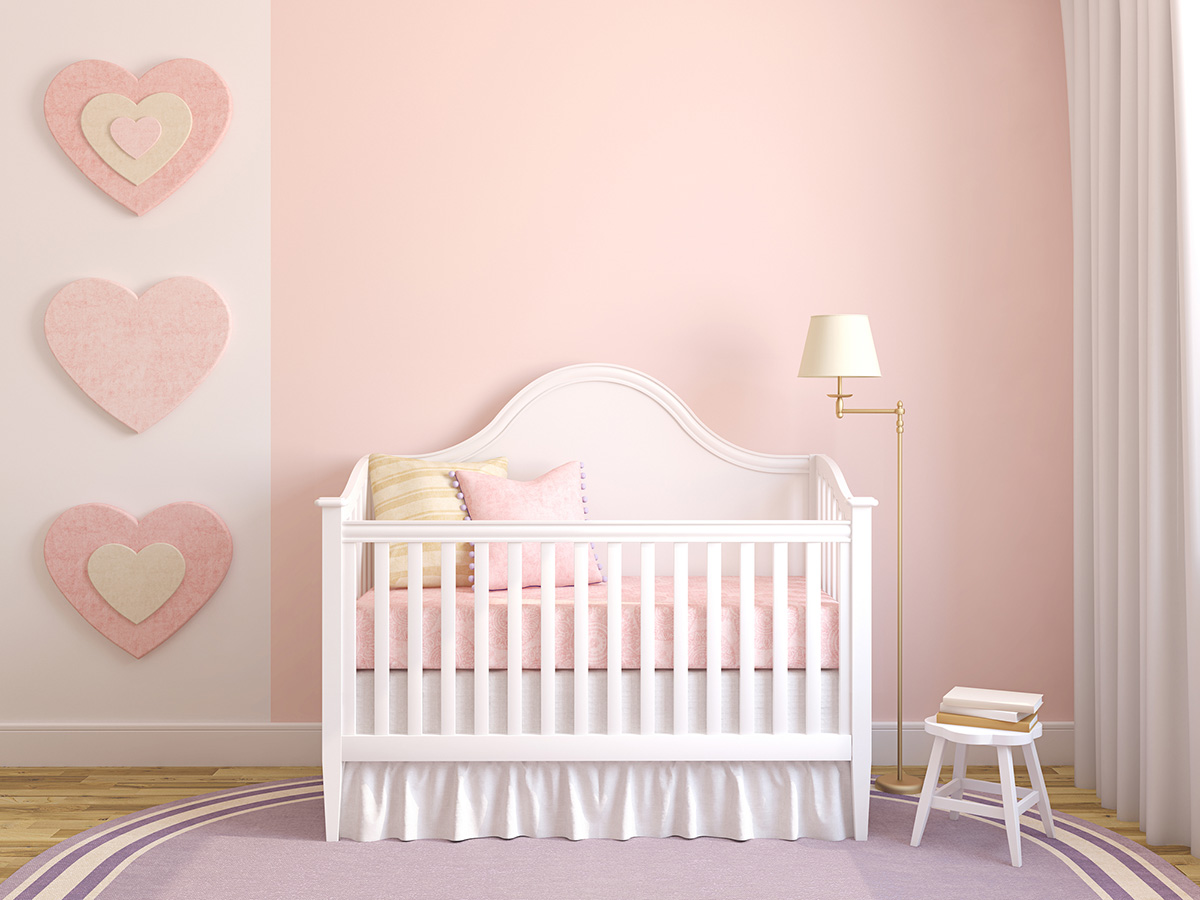 You are having a baby! Congratulations! Planning the nursey especially for your first child is a fun time as you anticipate your new bundle of joy. You want the room to be safe and comfortable for your child with all the prerequisites…crib, changing table etc…but you also want the room to reflect your personal style. The room has to be functional, but also adaptable to your baby's moods and stages of development. That can be a tall order. Luckily for you, nurseries have come a long way from simple pink and blue patterns. Here are six more modern themes for the nursery:
Bold, tiny spaces
If square footage is at a premium at your abode and your nursery needs to fit in a small room, then making the most of what space you have is of the utmost importance. Try to keep the furniture to what you absolutely need like a crib and a chest of drawers with a changing table on top. Get creative with shelving for extra storage space and for decoration. Bold colors and unique shelving on the wall can help bring a simple room alive. For the first year of your child's life you might want to add a rocking chair for those 2 a.m. feedings, but when he or she gets more active, you might want to switch it out for a small toddler-sized chair and desk for arts and crafts.
Gender neutral modern
More and more people are choosing gender neutral colors for their nursery because either they are waiting to be surprised about the gender of their baby or they want the room to be easily used for all the children they might have in the future. While greens and yellows have always been popular neutral colors or nurseries, don't be afraid to choose colors that seem more adult or modern like gray. The right shade of gray can be very soothing when paired with a bright white and hardwood floors. Make the gray pop even more by stenciling a cool pattern on the walls with complementary colors and choose a colorful area rug to add to the charm.
Urban chic baby
If you are an urbanite living in a cool, sophisticated city space, then you probably don't want a pastel colored nursery taking away from the edginess of the rest of your space. Try pale blue-green walls with black and white photographs of cool baby animals adorning it and charcoal gray furniture and gray and white area rug. Just because you are having a baby doesn't mean that you have to lose your edginess, right? And what is great is that this room will easily grow with your baby as he or she gets older.
Modern lines, earthy tones
The great thing about interior design as it has evolved over the years is that it we've learned that mixing colors, patterns and even styles is not only allowed, but encouraged. If you prefer modern lines in your furniture then consider filling your nursery with a contemporary style crib and glider. These pieces will go great with more earthy tones like a rich chocolate brown and light tans. For a pop of color consider getting your window shades in a bright bold blue. Lighting is important in this room so also get a low-light standing lamp with dim features so you can read with your baby nestled in your arms.
Color block style
Who says the nursey has to be calm and soothing? Babies also love bright colors and interesting geometric shapes. If you have adopted the color block style in the rest of your home, why not in the nursery as well? Bold blocks of color can be on the walls and floors and in the furniture and don't be afraid to mix. Pink, purple, orange, red, blue and green, purple and even turquoise can all complement each other. Cool abstract shapes and patterns on the walls will also give your inquisitive child something to look at as her eye sight comes into better focus. Try a cool triangle pattern across one wall for a pop of color and texture.
Southwest charm
Another great way to incorporate some earthy charms is with a southwestern theme borrowing heavily from Native American cultures with dreamcatchers and feather mobiles. Cowhide rugs also go great with this theme and since they are very durable they will hold up very well with all the wear and tear that naturally comes with children. With colors of the earth and sky and natural woods for the furniture, your baby will always be attuned with nature. The combination of silver and turquoise is also a unique look for a baby's room bringing a touch of luxe and charm to the space.
Friendly skies
Think fluffy white clouds on the walls and on blankets and pillows all set again a pretty azure blue that matches the sky. A fluffy white cowhide rug that feels like a soft cloud will also enhance the space. Your baby is sure to sleep heavenly with this motif. When picking out a theme for your nursery don't forget to pay attention to all the details. The crib, for instance, has grown in the last few years to be more of a statement piece with designers using unexpected color and shape combinations as well as different materials. A see-through crib? Why not? Many people are designing the whole room around the crib so don't be afraid to be bold and artistic. Lighting is also important in the nursery and with modern designs you have so many more options than you would have had in the past. Pendant lighting and glass chandeliers are now showing up in nursery designs. Chandeliers are often paired with a more luxurious themes that include materials like damask curtains or cowhide rugs. While it might surprise you to consider a cowhide rug has appropriate for a baby's room, the softness of the hide and the variety of colors it comes in makes it a great choice for when you don't want to do wall to wall carpet. It will give the room a warm, luxurious feeling that you and your baby will love. Try one of these more modern themes for a nursery that will stand out from the crowd.