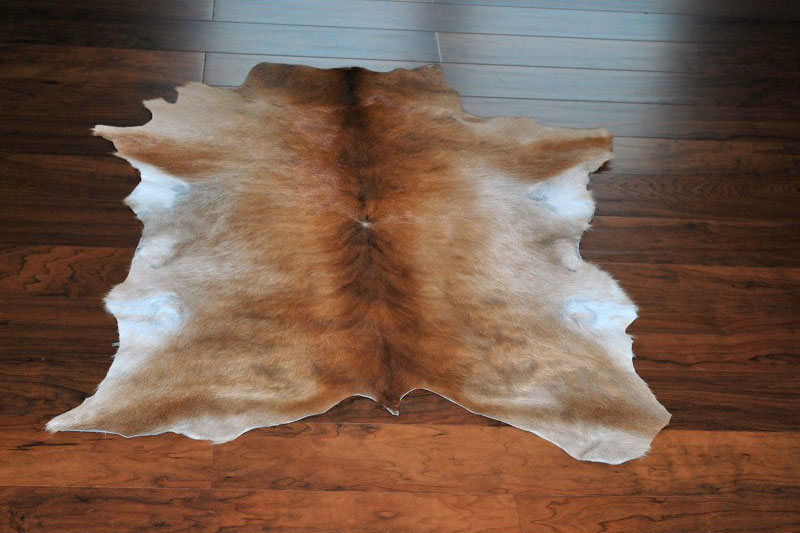 Calfhide rugs are a great natural addition to just about any home. While some people believe they are only appropriate for those with western or rustic style homes, the reality is that calfhide rugs can mesh with most décor and designs, whether a home is very traditional or ultramodern. Here are just ten suggestions for places you can put calfhide rugs:
1. In a bedroom
A bedroom is one of the best places to put calfhide rugs. Why? Because these rugs are naturally soft and welcoming. At the foot of a bed, they will not just look great, they will keep hardwood, tile, or even thin carpeting nice and warm, while also giving off a nice, warm ambiance. Calfhide rugs make a room cozier, and the bedroom should be coziest room in the house. In order to achieve the right look, find a cowhide rug that has the right coloration or pattern style to match the other colors in the room.
2. In the living room
Another great place to put a calfhide rug is on the floor of a living room. Paired with an angular couch, it can give the room a very modern appearance. With a plush, leather couch, it will achieve an authentic western vibe. With a streamlined fabric piece, a kitschy, trendy atmosphere. Because most living rooms are designed to be one of the biggest rooms in the house, a large calfskin rug is a great way to cover a large portion of ground and make the room feel more complete.
3. In a television room
In a room in which many people will end up sitting on the ground in order to watch television, a calfhide rug is a great option. The soft, gentle fur of the rug will make the room cozy, without sacrificing style or design. Black and white might be the best combination of colors for those trying to create a very modern look, but brown and white or even brindle would be better choices for those who want to generate a very modern appearance.
4. In front of a fireplace
Is there any place better for a cowhide rug than in front of a fireplace? Both of these elements, on their own, can make a room feel warm and cozy. Together, they can take a room's coziness factor to an entirely different level. Plus, there is something very traditional and iconic about putting a cowhide rug in front of a fireplace. It evokes the old world and the new.
5. In a play room
If your kids spend most of their days pretending to be cowboys, why not give them a cowhide rug that they can pretend is their trophy from a long winter out on the range? They'll love the soft feel of the cowhide and you'll love how easy calfhide rugs are to clean and maintain. They'll stand up great to the wear and tear that kids can put their flooring through in a play room.
6. In a library or reading nook
If you have a room or a corner of a room dedicated specifically to reading, this is a great place to put a cowhide rug. Why? It's all about upping to coziness factor. Plus, there is something about a cowhide rug that will take you back to classic reading rooms, in large, luxurious mansions.
7. On the wall
Just because your calfhide rugs are rugs doesn't mean they have to go on the ground. If you have a large, empty wall that you want to fill up, one of these rugs is an excellent option. They are large enough to dominate a wall, without being loud enough to dominate an entire room. You'll get plenty of compliments on the rug and it can still help a room feel cozy and warm, even without being on the floor. It will also stay pristine longer on the walls than it will when it is under foot.
Why Buy Real Calfhide Rugs?
Just with like most natural products, there are also replicas made, using faux materials. There are just as many varieties of fake cowhide rugs as there are real cowhide rugs. This can make it difficult for someone who is looking to buy a rug to pick which variety they want. Producers of fake rugs will laud there durability, swaying more people to pick a fake rug over a real one.
Here's the truth: real calfhide rugs are going to be just as durable, easy to clean, and easy to use as fake ones. In many cases, they may actually be easier to maintain and easier to place in your home than fake ones. Why? Because they are carefully selected, naturally tanned, and thoughtfully treated in order to retain the color, fur, and shape that you want for your home.
There is also something uniquely special about real rugs. They are never entirely symmetrical, which gives them a unique appearance. There are also no two real calfhide rugs that look exactly the same. Even if your neighbor down the street buys a rug made from a cow from the very same lineage as the cow your rug came from, you will not have identical rugs.
Real calfhide rugs are easy to clean, easy to maintain, and look great in just about any space. With natural shape, color, and texture, they can be as modern, as traditional, or as trendy as you desire.