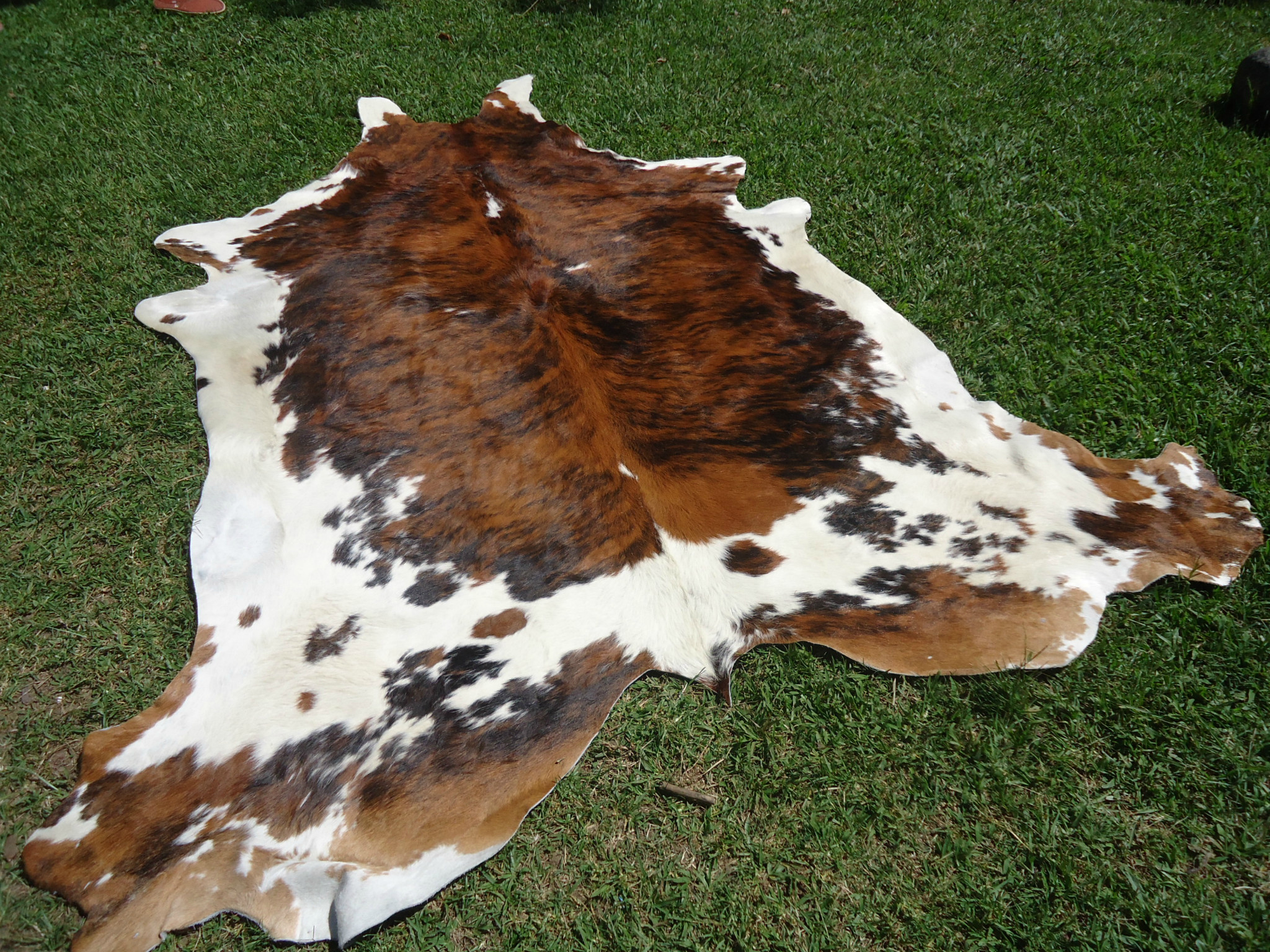 When it comes time to buy a cowhide for your home, whether it is a cowhide rug, a cowhide pillow, or even just a set of cowhide placemats, you might not be sure if you should buy a real cowhide product or one that is only made to look like it is cowhide. Fake cowhide is becoming more and more popular, making it difficult to find real cowhide products. Why should you spend the money to buy real when you could get a fake version? Here are some of the differences between real cowhides and fake cowhides.
1. Real cowhide is much more durable.
It is important to remember that cowhide is essentially leather. This means that it is going to be a much more durable option for home décor than face cowhide, which is usually made of out different types of plastics. Just about no other material can rival cowhide for durability. So, if you want a product that is going to last you longer than just a few years, you are probably going to want to buy something made out of real cowhide. Fake cowhide is going to start to disintegrate after only a few years, and you will just have to replace it. Usually, the same color and style will not be available, so you'll have to find something that does not match a well as that piece does.
2. Real cowhide is going to be more expensive.
The real thing is always going to cost you more than an imitation, and for good reason. When you buy real cowhide from a supplier that genuinely cares about its products, you are buying a high quality product that has been carefully selected and treated, so that it works as best as it possible can. Buying fake cowhide, on the other hand, may be cheaper, but it is also a serious gamble, one you are going to lose, simply because there is no way that fake cowhide can compete with real cowhide. The price of an item is not always an indicator of quality, but it is when you look at the difference between real cowhides and fake cowhides. Real cowhides are more expensive because they are a much higher quality.
3. The two are going to feel different.
Have you ever touched a cow? Most cows have soft, fine fur that makes a great addition to your home. It will make you feel welcomed and comforted when you touch it. Sometimes the fur can become a little bristly, but that is part of the charm of owning something that is authentic. Fake cowhide, on the other hand, might feel very soft, but over time, as it starts to become patchy and starts to wear down, it is going to become very uncomfortable to touch. This is especially true of cowhide rugs, for example. Fake cowhide rugs are going to start losing their fur as they are walked on, leaving the rug itself not very attractive to look at, nor very much fun to walk across when you are not wearing shoes.
4. Color options will vary widely.
When you buy fake cowhides, you might have the option of more varied colors, but you are essentially buying a photocopy of every other cowhide that company has every sold. There is someone else in the world with that exact same rug, because they are essentially printed by a machine. The same is not true when you buy an authentic piece. Instead, you get a piece of furniture or rug that is completely unique. Why? Because no two cows are exactly the same. You can find two that have similar colors and pattern styles, but each cow has its own pattern, as unique as a fingerprint. If you want something that is completely unique to your home, a real cowhide is the way to go. You will still have a wide variety of colors and styles to choose from, though it is true that you likely will have more colors to choose from if you buy a faux hide.
5. Real cowhides look better.
They don't just look better over time, they actually look better from the start. Real cowhides from a brand like ours look much more high quality than fake versions, even high quality fake cowhides, because they are the real thing. It's like the difference between real gold and fool's gold. Fool's gold might look fine, but it is nothing in comparison to real gold, both in quality and in durability. When you look at the two side by side, it will be difficult to argue that the fake cowhide looks better than the real one. The fur is finer, the finishing will be better, and the overall product will simply feel more luxurious—which is exactly what a cowhide should look and feel like.
If you are trying to decide between buying a real cowhide or a fake cowhide, there are a number of reasons to choose a real cowhide. While you will not be able to find a real cowhide that looks like it is a jaguar skin (something you can find with the fake version), you cannot beat the quality and authenticity that comes with buying a real cowhide rug. With our wide variety of colors, sizes, and styles to choose from, you are sure to be able to find one that looks great in your home.