When most people think of cowhides, they really only think of one product: the cowhide rug. While most cowhides do eventually become rugs, there are many other products that are made out of the same materials. For example, pillows can easily be made out of cowhides, often in coordinating colors and patterns to match rugs and other cowhide items that might be in a room. If you want to incorporate the natural beauty of cowhide into your home, but aren't sure which products you want, here is a list of many different cowhide products that you can find.
Cowhide Rugs
Cowhide rugs are one of the most popular products made from cowhides. While some of these rugs are very stylized and have been treated to be a different color or style than a natural cowhide, many look very natural and can accent both a traditional or modern home décor. The cut and color largely depends on the type of cow that the hide is taken from, while size will depend on the size of the actual cow. Only with natural cowhides can you get the look and feel of real cowhide that stands up to the wear and tear most rugs have to endure. Besides natural colors and styles, it is also possible to get colored or stenciled cowhides to use as rugs. For example, you could buy a natural cowhide painted to look like a zebra skin. There are also variations which simply change the color of the natural hide, making it silver or even gold. These changes to the color or to the overall style of the hide make it possible to get a unique or exotic looking hide that better meshes with the style or appearance of a room.
Cowhide Pillows
Pillows made out of cowhides are a great way to make a bold statement, whether they are made to match an existing cowhide rug or are simply left to stand on their own. These pillows make a soft and luxurious touch to any chair or couch, but will look especially beautiful on a dark leather seat. They are great for use in just about any room of your home and can be mixed with other colors and textures to create a unique effect. With both tricolor and brindle varieties available, it is possible to find pillows made from cowhides that can match a rug you already have in a room where you also want to incorporate the pillows. Because the best pillows will be double-sided, you can get plenty of wear out of them before they need to be replaced.
Cowhide Furniture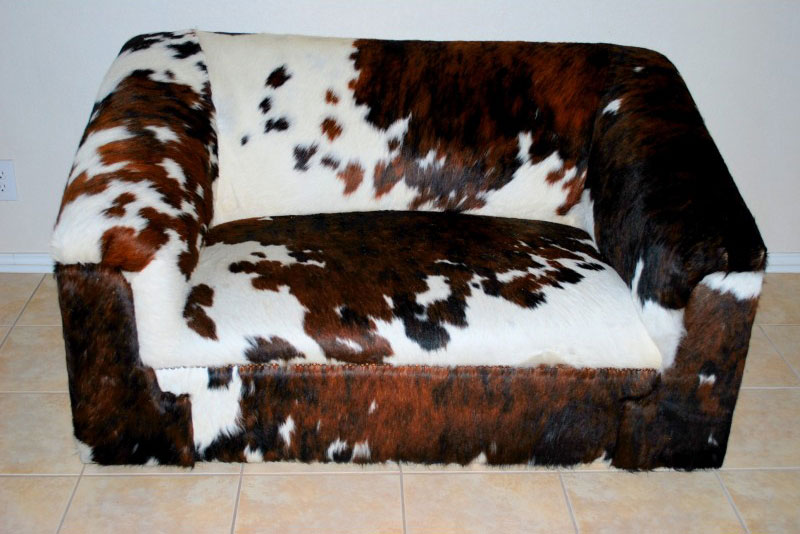 A cowhide chair or sofa is a great way to make a big statement in a room. When paired with other furniture, or left to stand alone, it will be both a statement piece and the focal point of any room. While cowhide can be easy to care for, it is more difficult to care for than other types of furniture, so it should be placed in a room where it is unlikely that children or pets will ruin it. Though cowhide furniture may not stand up to as much wear and tear as it would if it was made from other materials, there is no doubt that there is no better way to make a real statement in your room than with beautiful cowhide sofas or chairs. An entire set together will transform a room into a cowhide paradise, while a single piece will set off other pieces of furniture or play off of a cowhide rug, pillow, or other product in the room.
Cowhide Lampshades
A cowhide lampshade can add rustic flair to your home. With leather lacing and a variety of colors to choose from, it will be easy to find a color and style that meets your needs. A cowhide lampshade, for example, can be used to add a little bit of traditional style to a home that otherwise has modern décor. On the other hand, it can round out a home's rustic décor. While most people use these lampshades in homes that already have a Western theme, the variety of colors makes it possible to pair them with just about any set of furniture and wall color.
Cowhide Gun Cases
There is perhaps nothing more American than a cowhide gun case. Guns are already closely associated with the Wild West, so why not keep them safe in a gun case that is as Western as the gun itself. Cowhide makes a great material for storing and carrying your favorite gun, for the same reasons that the best holsters are made from leather. It is rigid enough to hold your gun in place, while being pliable enough to let the gun go when you want to clean or use it. A cowhide gun case is a great way to pay homage to gunslingers and to keep your weapon safe.
Cowhide Bottle Cozy
Want a great way to show your cowhide pride and to keep a can or bottle cold? A cowhide bottle cozy is a great pick. Buy an entire set and you'll have cozies enough for everyone who comes to visit.
Why Cowhide?
Cowhide is an extremely durable, versatile material that makes a great natural base for just about any project. As a rug, pillow, piece of furniture, lampshade, gun case, or bottle cozy, it is as functional as it is unique and beautiful.