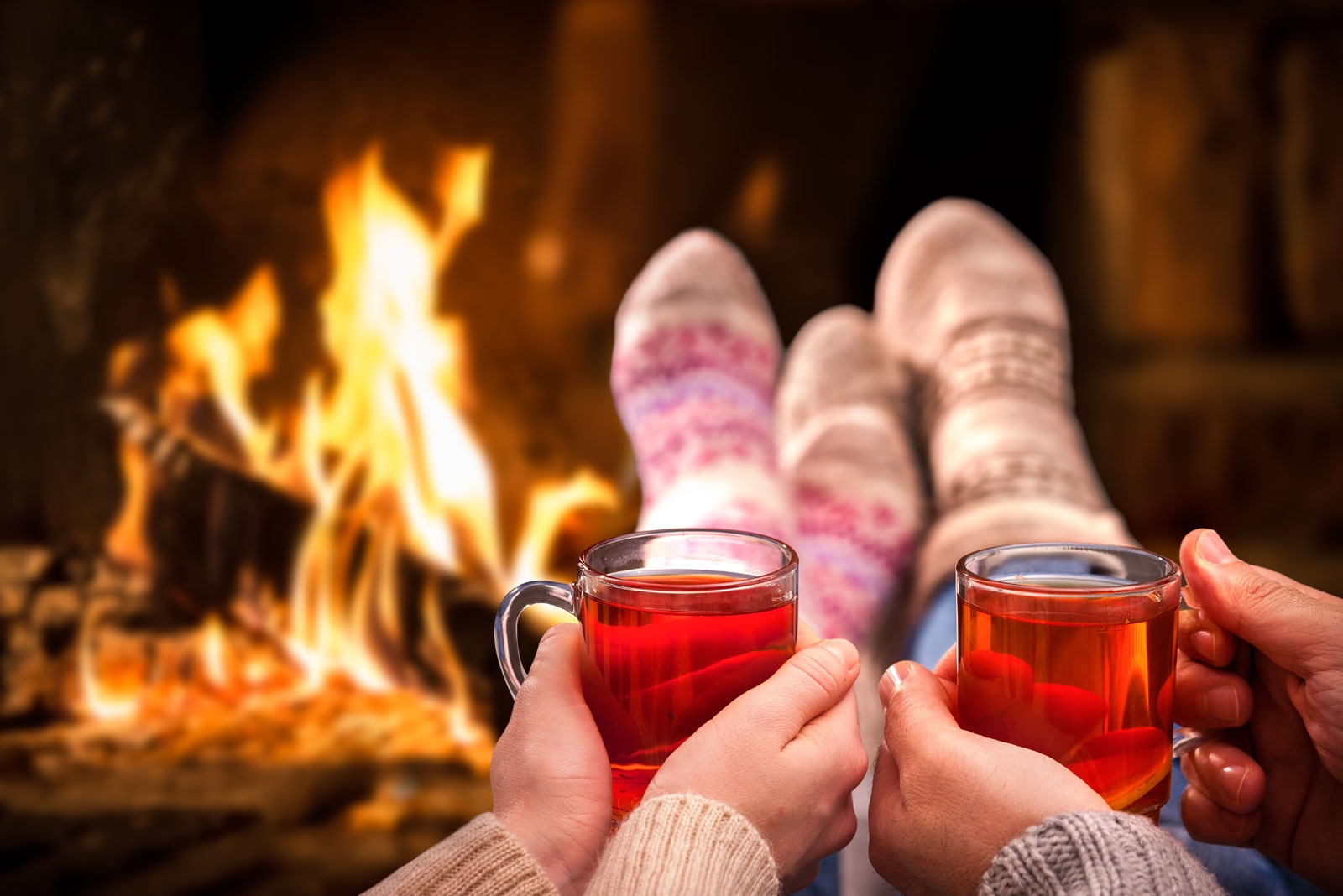 You want your home to be your personal sanctuary, a place where you can escape all the stresses of the outside world and just enjoy what matters to you the most. What better way to do that then to bring some vacation vibes into your living space. And if you prefer winter time vacations hitting the ski slopes and resting by the fire instead of laying out on the beach, then why not bring some elements of your ski trips into your home?
Here are 9 ski lodge décor ideas to warm up your home:
Let the Fireplace Not the TV Set the Stage
In most homes, the television is the focus of the living room or family room and usually the bigger the better, right? But if you are trying to create a winter wonderland atmosphere, then the fireplace should be center stage.
Accentuate Your Best Views
Ski lodges are always trying to bring inside the best of nature, including trying to capture the beautiful landscapes outside through the windows. While you most likely don't have beautiful mountaintops in your backyard, you can still accentuate your best views. Find the windows that look onto a garden or deck and liven the space up with colorful flowers and greenery. Add twinkling lights for the nighttime to make it even more festive.
If it is in the budget, also consider getting more elaborate windows and window treatments to frame the views more dramatically. A bay window can really add some sophistication to your home.
Decorate with Ski Ledge Mementos
When decorating the walls in your home, consider portraits of winter wonderlands and skiing or sledding. Also little mementos like snowshoes or a miniature snow sled can make interesting wall art.
Add Natural Stone and Rustic Wood Furniture
Another way to bring the outdoors in is to incorporate some natural stone and rustic wood coffee tables, end tables, book shelves and entertainment centers. It can really add to the ski lodge vibe. Also consider stripping down one of the walls in the living room or den down to exposed bricks or stone or if you don't already have a fireplace build one that is frame in stone or exposed brick.
Rustic wood furniture will also amp up the cozy vibe and make you feel like you are connected to nature and days of yore. The high-tech, high-stress world outside will seem miles away when you are all warm and snug inside your home.
Fire Pits Are Year Round
If you have a fire pit, don't tuck it away after Labor Day because it can bring a lot of warmth and fun to your home year round. In the winter time, head out to the yard and toast some marshmallows and make s'mores and it will be certain to warm the cockles of your heart.
Dress Your Home in Warm Colors
Your color palette can also really help boost the ski lodge vibe. Earth tones and warm reds and yellows on the walls and in the couches and chairs and in the art work will definitely warm up the space.
Revitalize Plaid in Your Home
Too many people associate flannel just with lumber jacks, but flannel can be a great addition to your ski lodge décor if you spice it up a bit. Instead of the classic patterns in red or green try fresh color combinations in other warm tones and use it for blankets, pillows and upholstery, wherever you think it will look the best.
Create Entertaining Quadrants
At a ski lodge, the owners also carve out little spaces in the home for different activities like having hot chocolate and playing games or reading by the fire, and you can do this at home too. While your guests will certainly love it when you are hosting a family for friend get together, your family will love it too. Everyone will love having the house flow easily and having special areas for different activities of the day.
Add Layers to Your Decorating
Layers of texture can really warm up any space. Wood floors with an area rug can bring both warmth and texture. Cowhide rugs in particular bring both texture and sophistication to any room. They come in a variety of colors and patterns. You can get so much more than the typical black and white or brown and white pattern. You can choose from all white, tricolor, brindle, speckled, salt n pepper and even Brahman gray. You can also get cowhide rugs that are stenciled and dyed colors like pink or gold.
Another great thing about cowhide rugs is that because each cow has a unique hide that means no one else will have the exact same rug you have. Even twin cows have a slightly different pattern. If you love to be unique, then a cowhide rug can really help you put a personal stamp on the room.
Because of the soft and thick hide, cowhide rugs also bring a note of luxury to a room. Imagine sinking your feet into the soft hairs as you curl up on the rug in front of a fire. Cowhide rugs can also act as a tapestry for your walls or as a throw blanket over your couch. You will feel like you are in a five star ski lodge when you decorate with cowhide.
Cowhide rugs are also very durable and easy to take care of. To clean them, all you have to do is wipe up spills with a dry cloth or clean up dirt with the vacuum. An authentic cowhide rug holds up well against the constant flow of kids and pets throughout the house and will last you a very long time. This is especially important when you are going for a ski lodge vibe because at ski lodges, everyone is constantly flowing in and out of the lodge tracking mud and snow everywhere.
For more information about how cowhide rugs can help you get the ski lodge feel, contact Cowhide Outlet today.