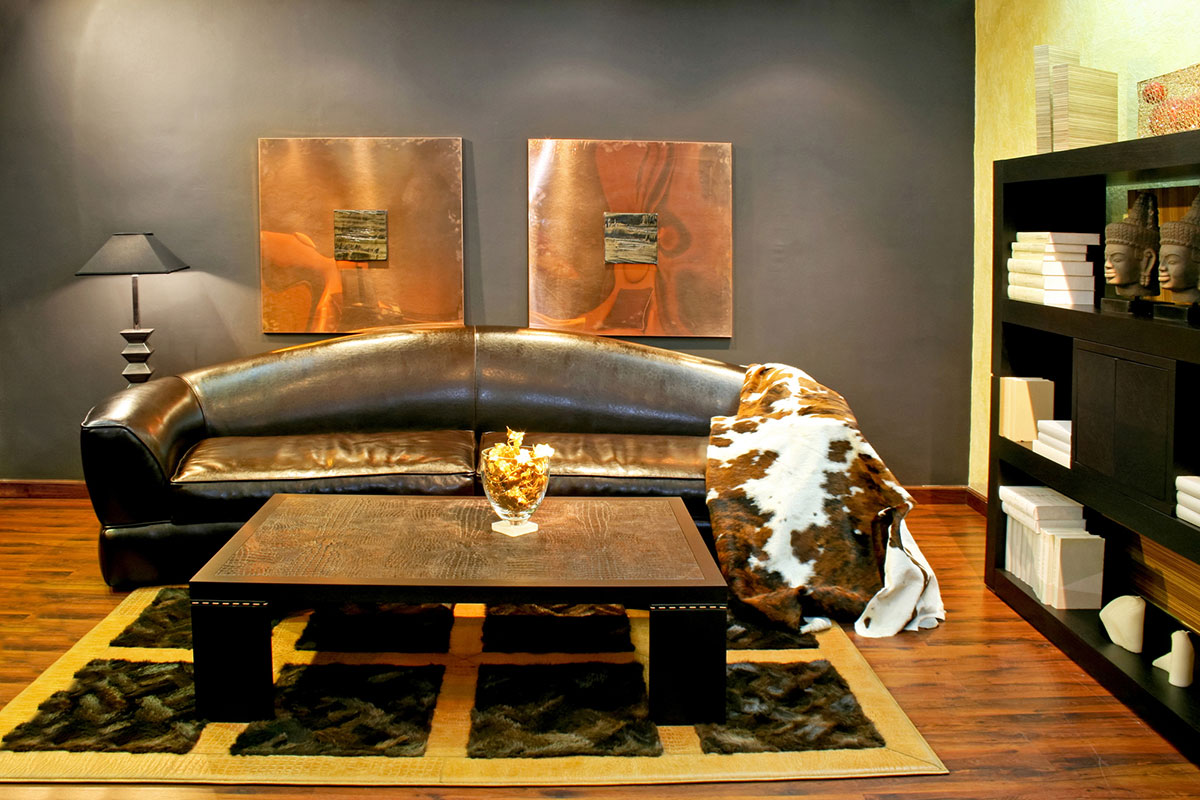 In the last five years or so the popularity of cowhide rugs has really been growing and not just for more rustic or western styled homes. You are probably seeing them pop up more and more in contemporary and modern spaces as well. There is so much more than meets the eye when it comes to cowhide.
This is because cowhide rugs are very versatile and come in different shapes, sizes, colors and patterns. Most commonly natural cowhide rugs come in black, white, brown and white, tri-color, brown-white and black, and brindle. If you are more adventurous, you can even get cowhide rugs dyed a bright color like pink or one that is acid metallic washed. They even come in patchwork.
Another thing that makes cowhide rugs so great is that they can be used in just about any room in the house from the living room to the bedroom and work on top of a carpet or on a hardwood or tile floor.
Cowhide rugs can be a big investment so it is important to make sure you get a quality one that will last for generations to come. Here are some tips for ensuring that you pick a quality cowhide rug:
Know where the cowhide is coming from
Experts agree that the highest quality cowhide rugs come from Brazil, Argentina, Columbia and France so make sure you know where yours is coming from. Top manufacturers will use special chrome salts and oils in the tanning process for the highest quality and softest hides. Also look for companies that are against animal cruelty and who only use skins from cows who were raised for their meat and milk. It is important to look into the background of the company you are considering purchasing from.
Test the quality of the cowhide
There are different ways you can test the quality of the cowhide. You can do the bunch test where you bunched the rug up and then let it fall out. High quality rugs will fall out naturally without any wrinkles. You can also do a smell test to see if it smells like genuine leather. Don't worry you will be immediately able to tell the difference. You should also look at the coat. If it appears shiny and health then you probably have a good quality hide.
Because you are most likely going to order your cowhide rug online, it is important to go with a company that has a good return policy. That way you can do these quality tests once you receive your cowhide rug and be reassured that you can always return the rug if it doesn't pass the tests to your satisfaction.
Taking care of your cowhide rug
Once you get your cowhide rug home and you are happy with its quality now you have to decide how to care for it. Luckily, cowhide rugs are very durable and pretty low maintenance. For general care, you simply just need to vacuum them on a regular basis. If you by accident spill something on the rug, simple use a dry cloth to wipe it up. Make sure you wipe in the same direction of the hairs. For harder spills, you can use a damp cloth with a mild detergent. A well-taken care of cowhide rug can last a lifetime and can easily be passed down through the generations.
Displaying the cowhide rug to its best advantage
Cowhide rugs can add a touch of softness and luxury to any room. Here are some ways you can use cowhide rugs in your home:
To add romance to a den or bedroom
How much more romantic can it get then curling up on a soft cowhide rug in front of the fireplace? Grab a glass of wine and snuggle up with your loved one and enjoy the extra luxurious feel the cowhide rug brings to the space.
Add some whimsy into a modern space
Don't be afraid to think outside the box when thinking about how to use your cowhide rug. If your aesthetic is typically more modern, you can still have a lot of fun with cowhide. Picture how a brindle cowhide rug can soften an industrial-styled urban apartment filled with metal and glass. It is also bring a bit of fun into a monochrome space.
Brighten and warm up your kitchen all at once
Your kitchen is the hub of the house where family and friends hang out. Because of the utilitarian nature of this room you need it to be easy to clean, but that doesn't mean the space can't be bright and cheery as well as warm and inviting. And a simple cowhide rug can do all of these things. Fun patterns like brindle and black and white spots can add the fun while the soft suppleness of the cowhide will add the warmth.
Brighten up a neutral palette
Keep your neutral palette from looking drab and dingy by adding a cowhide. Cowhide with its unique shades and combinations of blacks, browns and whites and its rich texture can make an interesting focal point in an otherwise simple room. Instead of looking too plain, your room will look warm and inviting with the addition of cowhide on the walls, floors or even as the fabric of our couch or reading chair.
Tone down bright colors.
Contrary to what you might assume, cowhide does not clash with bright colors. The blacks, browns and whites in cowhide can keep bright colors from appearing too garish, so don't be afraid to get creative with color and texture.
Complement other patterns.
Don't be afraid of mixing patterns. You can have a cowhide rug and other bold patterns on the walls and furniture at the same time. It is all about what vibe the combination gives the room and as long as you are careful to balance color and texture, it should be a homerun.
A cowhide rug is a smart investment no matter what your personal style is and if you know what you are looking for, you can make sure you get one that will last you a long time. Don't be afraid to go cowhide.